Little-known fact: the
tri
short is the only "make-or-break" piece of equipment you own.
How so? Anybody can gut through the wrong type of shoe for their feet for one day. You can ride a triathlon on a single-speed cruiser. You can swim without a wetsuit. No need for
aero
helmets. Nutrition? Whatever is served on course.
But your
tri
short? Get this piece of equipment wrong, and either your...well...
ahem
, lower extremity will be either numb, or painful. Chafing. Saddle sores. Running with a diaper. Uncomfortable. In sum, screw this up and you'll be crying for weeks afterward.
Ah, but here lies the issue: what fits? This is why there are so many different companies, with different lengths of shorts, with different sized chamois, and varying materials. But first and foremost, make sure that whatever short you buy:
Sits comfortably snug through the groin area. Creasing is a bad, bad, BAD sign. (Did I make that clear enough?)
The chamois feels comfortable against you. If you feel like you need to adjust it constantly without movement, imagine having that up against your backside for the better part of your running experience. If this is you, move on.
The elastic leg bands feel secure against the skin, but don't feel like they're peeling your skin off in the process. Yes, there is a difference, particularly those of us that have legs covered in fur. (Shut up. I'm hairy. And I refuse to shave.)
With that in mind, I've had the pleasure of testing out three shorts from different companies. They all fit me well, but each has it's merits and flaws, and I'll pick my own winner. Remember, your results can and will vary.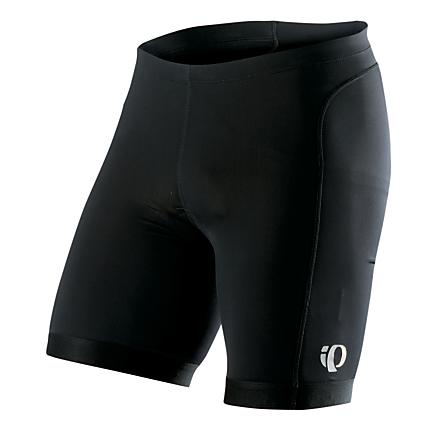 This is Pearl
Izumi's
"entry-level" short, as their product ranges from the Select on up to the P.R.O. line (high-end, think Tim
DeBoom's
gear). I had gotten this as part of a package when I picked Kermit up, along with my
Tri
Fly III cycling cleats.
These shorts live up to the entry-level part of the equation. The chamois, although decent, is good for no more than about an hour on the bike before it feels like you have no padding there. It seems like it doesn't want to give up moisture as well as the other two shorts. However, I could see this short doing well for athletes who are racing no longer than sprint or Olympic distance events. This short is great on the run.
Pros: Great running short, short distance champion
Cons: Chamois doesn't hold up to extended cycling
Verdict: For short-coursers only.
Sometimes, more is less, and here is where innovation sometimes comes at the expense of actual, practical use.
To wit: the 2
XU
short is a great short. But some of the "added benefits" wind up actually detrimentally impacting the short, relegating it to the second place position. But don't get me wrong: I
love
this short.
2
XU
has nailed a lot of things on this short: the chamois in these is perfect. A light perforation allows them to dry, yet it never feels like it is compressing on the saddle. Three hour efforts are extremely comfortable. The overall short is quite breathable. And the compressive nature of the garment makes the legs feel pretty darn fresh after a while.
But it's the "dimple" panels to provide a more aerodynamic benefit (yes, like the dimpled
Zipp
wheels) wind up giving a mild irritation on the skin after a little while. And the leg grabbers are a touch too grabby on the run, almost digging into the back of the hamstring.
Pros: Great chamois, waist is perfect, compression helps move lactic acid
Cons: Legs too grabby, materials can rub
Verdict: Nailed the big stuff. Time to focus on the
minor stuff
and we've got a winner.
This short mixes the best of the Pearl
Izumi
shorts with the best of the 2
XU's
to give you a package that is nothing short of awesome.
This gives you the conforming run comfort of the Pearl
Izumi
with the perfect all-day long riding chamois off of the 2
XU
. Super breathable mesh pattern on the side, while still giving you some compression through the hamstring and quadriceps. The leg grabbers are tight, without feeling like they're ripping skin off.
The only real drawback? Cost. At $119.99 per pair, you'll have invested a ton of cash into these. But considering how wrong a bad short feels...it feels like the best investment you've made in equipment.
Pros: Great fit, all day long comfort, super breathable
Cons: Price point can leave your wallet crying for shame
Verdict: Spend the money. Be comfortable.