Disclosure Note: As part of my relationship with Team Rev3 Triathlon, I receive product from Pearl Izumi. Pearl Izumi provided me with this shoe. I was not compensated for this review, nor would I accept any if offered. The opinion within is entirely my own.
Now that we've gotten the legal stuff out of the way (you see, every once in a while that J.D. from the University of Maine pays off)...
Unless you've been living under a rock for the past couple of years, you know that we've ridden a pretty crazy ride in the footwear world.
Vibram FiveFingers
were initially brought into the U.S. as a hiking and sailing shoe, then
Born to Run
storms onto the scene and everyone goes full minimal.
Saucony
brings out the Kinvara, and away we chase on down the rabbit hole. New brands storm onto the scene. Less shoe. Less offset. Less everything!
Good thing, right?
Eh...not so much.
We've entered into what some have clumsily dubbed the "Post-Minimalist Era." The "natural run/minimalist" market makes up a little more than 10% of overall sales volume, and that number has stabilized since the latter half of 2011. The majority of shoes that hit into the top 5 listing there include the aforementioned Kinvara, the
Brooks
PureFlow and PureCadence, and
Newton
's Gravity. What's the trend with all of these shoes? Let's look at the PureFlow as an example: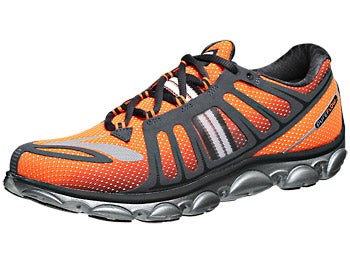 Brooks Men's PureFlow 2. Image courtesy of Running Warehouse.
There's still an awful lot of cushioning there. To call that shoe minimal is doing it a disservice. So what's so different about it?
The body positioning is different. Most typical shoes (e.g., those not in this category) will feature a 10-12 millimeter difference between the height of the heel versus the height of the forefoot. This is referred to as either drop or offset.
So, the natural run concept marries the idea of being closer to a barefoot-esque body positioning, but paired with the knowledge that we also don't run on a surface that the human body was really designed for (asphalt and concrete, we're looking at you). The Flow, and most shoes like it, will feature somewhere between a zero drop and 4 millimeter offset.
Well then, you ask, what is right for me? Don't we all want to be more natural with the way we run?
The answer, of course, is it depends. The body is an adaptive machine; it will resort to recruitment in the positions that it is most accustomed to. In other words, your body craves the same kind of body positioning for running that you are always putting it into. So if you're always barefoot around the house and wear nothing but flats all of the time, why would we then raise you 10-12 mm in the heel to try and run? If you wear Dansko clogs all day, why would we then try to let the back of your leg extend an extra 8-12 mm when you aren't likely to have flexibility in the tissues?
But, you ask, aren't our needs throughout the gait cycle a bit more dynamic than that? We need elasticity in the back of our legs for loading, the foot then needs to become a more rigid lever for toe-off...what do we do?
And that's where
Pearl Izumi
comes in with Project EMotion.
Pearl Izumi EM Road M3
The TechnoBabble
(You're screaming: "WHAT? IT GETS MORE TECHNICAL THAN THAT? Not really...I think.)
As we covered above, our gait cycle is dynamic. Our feet have different needs throughout certain phases of our gait. Not to mention, of course, is that our pronation rate tolerances can be different, too. I have a little extra navicular drop, a sign of some excess motion in the foot, but my body is relatively tolerant of it. A hint of support in the midfoot does me well.
Enter Pearl Izumi.
Pearl Izumi's been making a lot of cycling, triathlon, and running gear for years now. They've done extremely well with their cycling and triathlon gear. Their running shoes? Well, as a retailer, let me say that their previous efforts left a bit to be desired. The seamless upper has been a great innovation, but the performance underfoot did not do the rest of the shoe a service.
PI, to their credit, recognized that their shoes were not where they needed to be. So they set out to revise their entire run line-up. This isn't a cheap endeavor; you have to open new molds for all of the sizes, re-test new EVA strands, then see how they actually wind up working out.
In the process, PI started to come to the same conclusion that we'd talked about above: our needs throughout the gait cycle are different. Also, how can build a shoe that perhaps people who would normally pick between one offset or another not have to make that decision anymore? What about, instead of having to think about how they run, they can just, well, run?
EMotion works like this: the shoe's toe-spring is moved further reward, to better mimic where the metatarsals themselves line up. This allows the shoe to work with the bone structure and give a platform for that nice, rigid lever. In the rear end of the shoe, you have a slightly higher heel-to-toe offset, but based on the construction of the foam, it provides a deeper amount of compression, effectively lowering the offset. The outsole features both the EVA from the midsole (helps increase feel underfoot) along with carbon rubber for durability purposes. There's also a line running through the outsole of the shoe, showing the initial impact, pronation, mid-stance, and propulsive phases of the gait cycle. Also, all EM shoes feature a seamless upper.
Now for the sea of naming: this is easy, but confusing.
There are three main product lines: Road, Tri, and Trail. The name is then comprised of a letter and a number. The letter refers to whether the shoe is Neutral (N), Midfoot Stability (M), or Heel/Rearfoot Stability (H). The number then refers to the cushioning underfoot. 1 is least, 2 is middle ground, and 3 is ultra plush.
Currently, the line-up consists of the following options:
Road:
N1, N2, N3, M3, H3
Tri:
N1, N2
Trail:
N1, N2, M2
Because of midfoot pronation needs, I'm wearing the
Road M3
. There are plans to extend out the product line with less cushioned options in Road, and also do Tri stability. That said, PI made the decision to go with where they figured sales volume would be at the start. Can't say I blame them.
The published weight of the M3 is 9.7 ounces in a men's size 9. Naturally, I'm taking that with the entire container of salt, as I'm wearing a 14 in the M3. (Please note: the shoes do tend to run on the small side! Expect to go up a half-size versus your normal run shoe size.) For comparison's sake, the published weight on the other two go-tos in my run collection right now: 8.7 ounces for the Saucony Mirage, and 9.3 ounces for the Brooks PureCadence2.
The Run
The short version: wow, Pearl Izumi connected on this one.
The long version:
You step into the shoe, and immediately notice the seamless upper. There's simply no hot spot or irritation to be found. Even though it's not the tri version of the shoe, I could fully expect someone to be able to run in this sockless.
The closest brand, IMO, in terms of the fit of the upper would be
Mizuno
. It's a pretty narrow overall fit, but there is some more flare to the forefoot than previously found on brands hailing from Japan. Traditionally, Mizuno and Pearl Izumi have both had very slender fits. This shoe still retains a very lean midfoot and heel, but the forefoot allows a little more splay, allowing your foot a touch more natural stability by letting your toes spread out on the interior.
Arch height underfoot is on the average side; inoffensive and unobtrusive to my foot. Those with taller arches will probably desire something a little higher underfoot, but I think for the majority that will wind up in this shoe, it's more than high enough.
Starting the run, the first thing you notice is how springy the shoe feels. Technical term, I know. But by that, I mean there's a lot of bounce coming back from the shoe. It doesn't feel like a marshmellow underfoot, but it's also not harsh. It's similar to the experience of running on a tartan track for the first time; just need a second to adjust to the bounce.
Similar to the Brooks PureCadence, this shoe is extremely versatile at a variety of paces. I took these out for some hill repeats, getting down to about 6:20/mile pace and slowing to as slow as 9:00/mile pace, and the shoe felt great during each tempo range. It firms up a little bit as you quicken the tempo, but not so much that it's punishing you for attacking the ground.
Overall, I think a lot of people are going to be very, very happy with this shoe. It's just a *hint* soft for me for my preferred 13.1 mile race-day options. This is definitely going to be in the rotation training, and will be my weapon of choice come
Rev3 Cedar Point
in September. Somehow, I think a little extra cushion after 114.2 miles will come in handy. At that point, it's all about accumulated load stress.
Available: Now.
Pricing: $124.99